2017 INDUCTEES :
Rick Bresnahan  
(Bresnahan at the left)
Rick moved to the MidCoast area in 1974 and married his lovely wife Ann in 1979. Together they raised three children in the area,  Rick and Ann still call Hope their home. Rick's rookie season in the area of trying to make a difference in the lives of others by providing opportunities for youth began in 1992 when he joined a team to become part of the founding board of Make -A- Wish of Maine. It was the beginning of what has been a fantastic 25 year journey of playing on many teams to help others.  
As an owner of Goose River Golf for 5 years worked to help start first MidCoast Junior golf Association. Part of group that built Montessori School [now RES 1-4] and put in a baseball diamond. Involved with Hope Little League for 10 years, from coach to President which then lead to being involved with Knox Suburban Little League as its President.  Part of the group that built True Park in Hope that added a Little league field, soccer field, basketball court, and playground to the town's facilities.  On the Friends of CSD team that helped to provide a track, bigger playing fields, maintenance shed and outstanding Auditorium for Camden Hills Regional High School. Rick was on the Hope School Board for 12 years, during which time they did a school expansion and renovation. This included improved athletic fields and play areas, along with a larger gymnasium and dedicated music and art spaces. Part of a team of four families that built Midcoast Recreation Center that opened in 2001. It included a hockey rink, 4 tennis courts, day care and rooms for other activities such as dance, martial arts, conditioning etc. Rick worked with Kip Brundage to form Pen Bay Soccer Club in 2003. A club that has grown from 4 team and 55 players to today working with 15 teams and 195 players.  To quote Rick, "I had the pleasure of coaching many Hope kids in Baseball, Basketball, and Soccer with lots of great area coaches including the late Tom Ford. I was able to provide an opportunity for the local mountain bike club [MCNEMBA] to build and create trails in the area. The growth and popularity of the sport has been fantastic." Rick has also worked with Dutch Soccer Academy to provide 19 years of first class soccer camps in the area. Perhaps the crown jewel has been the building of the Pitch in Warren . A facility that was built to help provide opportunity and growth to Midcoast athletes that was not available locally for them. Rick says, "I have been fortunate to receive the Maine Principals Service to Maine Youth award, as well as being honored as Townsperson of the Year, with my wife Ann, from the Chamber of Commerce.
Truly I have been blessed to have all these opportunities and the chance to work with so many people that want to make a difference. I leave you with a quote I look at every day. 'A hundred years from now it will not matter what my bank account was, the sort of house I lived in, or the kind of car I drove, but the world may be different because I was important in the life of a child.'"
John Christie   
Born on February 14, 1937 in Presque Isle, he was the son of late Milton and Jocelyn (Johnson) Christie. The younger of two siblings, John graduated from Camden High School in 1955. A member of the Class of 1959 at Bowdoin College where he received his Bachelor's Degree in English, John continued to study at the International Graduate School at the University of Stockholm.
John Christie started skiing at the Camden Snowbowl before he started school and skied through high school as a recreational skier. At Bowdoin College he entered competition, skiing in all four events. In 1958 he won the State Intercollegiate Downhill Championship. After graduation in 1959 John spent the next two years on a fellowship at the University of Stockholm in Sweden. Returning to the states in 1961 he went to Sugarloaf to race in the Sugarloaf Schuss and stayed on to work on patrol. 
That led to his entrance into the ski business as he spent the summer installing T-bars four and five and was named Amos Winter's Assistant Manager in the fall. Along with Jud Strunk and Bill Jones he formed "The Sugarloafers" singing group that entertained at ski shows in Boston, New York and Detroit, from 1963-65.
In 1965 Christie was named General Manager at Sugarloaf and it was under his leadership that the mountain installed the four passenger gondola, a major step forward. He helped to promote Sugarloaf and the sport by hosting a ski instructional program on WABI in Bangor from 1965-67. Along with his managerial duties he served as president of the Maine Ski Council, the Sugarloaf Ski Club and the Ski Maine Association, and in 1968 received an award from the Maine Ski Council in recognition of "distinguished service to skiing in Maine".
In 1968, John moved to Vermont to take over as Vice President and General Manager of the Mount Snow Development Corporation. His leadership was recognized when he was elected President of the Vermont ski Areas Association in 1970 and a director of the National ski Areas Association in1971. He became President of the Vermont Chamber of Commerce in the spring of 1972. That fall he returned to Maine when he purchased Saddleback Mountain. He received the Maine Publicity Bureau's President's Award in 1973. In 1976 he sold Saddleback and thought he had retired from the business and the sport, until 1993 when his twin sons Josh and Jake learned to ski at the Camden Snowbowl. He returned to skiing and in 1996 returned to Sugarloaf as a recreational skier.
Once back in skiing it didn't take long for him to get involved beyond recreational skiing, being elected to the board of directors of the newly formed Ski Museum of Maine in 2002 and President in 2005. He also played a key role in forming the Maine Ski Hall of Fame, serving as chairman of the selection committee 2003-2005, a position he gave up to accept the Ski Museum presidency.
Jim Graffam                                               
(Photo from Villagesoup)
Jim was born into a very athletic family and he experienced success at a young age. In 1963 at age 13, he was a starter on the Lincoln-Knox Babe Ruth all-star team that won the State of Maine championship, qualifying for the New England regional. At Waldoboro high school from 1964-68, Jim earned 11 letters. He was a standout in cross-country running. In basketball, the Blue Jays won the K-L title in 1966 with a 14-2 record and were 11-5 the next. In both years' they qualified for the Western Maine class M tournament. As a senior, Jim set the school's scoring record for a single game (45) and season (358). He averaged 22 ppg while twice scoring over 40. He was a 4- year starter on the baseball team that won three straight K-L titles going 
undefeated in 1966. After high school he attended USM, participating in Cross-country for1 yr., basketball for 4yrs., and baseball for 4 yrs. As a freshman, Jim was the number three runner on a cross-country squad that started off slow but finished second in New England out of 29 teams. In basketball, he started on the freshman team and was a valuable reserve on the varsity the next three years.  As a baseball player, Jim was a three- time captain on an improving Huskie squad. He hit over .300 each of his last three years.
As a high school coach, he coached for Medomak Valley for 3 yrs. under the legendary Art Dyer. Jim was part of the staff that saw the Panthers win their first State Championship 1977. At Bonny Eagle, he helped transition the district into Class A from B. He led the school's team to qualify for the A tournament for the first time.
As a college coach at Saint Joseph College in Maine he was the head baseball coach, and assistant basketball coach.
In eight years the Monk baseball team won five New England NAIA
championships winning 170 games. He coached basketball at Westbrook College winning two Mayflower conference championships, the University of Maine at Fort Kent, Green Mountain College, and the College of Saint Joseph, winning the Sunrise conference there three times. 
Highlights:
In his time as a college coach, he coached seven all-Americans, over 60 all-conference players, and had 7 players go on to play pro. He led his teams to eight conference championships and won coach of the year many times.
He also coached professionally with the Portland Wave in 1997, and served as a scout for the Blue Jays from 1990 to 1996.
He served in the US Army reserve and Maine Army National Guard, retiring as a major.
Travis Magnusson
(Photo from Villagesoup)
Travis was a three sport standout at Georges Valley High School in Thomaston. While at GVHS he scored 2,159 points for his high school career. This feat is in the top five in boy's basketball, all time, state wide. He led the state in scoring his junior year at 33.1 points per game and totaled 392 assists for his career. He was one of three finalists for the Maine Mr. Basketball Award, was a four time Mountain Valley Conference All Star, the Class C Tourney MVP in 2002, a two time Portland Press Herald All Star, two time Bangor Daily News All Star, and led his team to the Class C Western Maine finals. Travis is the only player in GVHS history to have his number retired. In soccer he scored 73 career goals which is third all time in GVHS history. He was a three time Mountain Valley Conference All Star, two time Western Maine Class C All Star, and an integral part of a very successful team. In baseball he was a four year varsity player and a two time MVC all Star. He was selected as the Courier Gazette Athlete of the year his senior year, Georges Valley Athlete of the Year in 2001 and 2002, and a Courier Gazette All Star in multiple sports. He also coached a 5th and 6th grade basketball team for the Recreation Department while in high school. Travis continued his education and basketball career at the University of Maine at Farmington under Coach Dick Meader. At UMF he was a four year starter, and scored 1,400 points, which is in the top five in program history. He ranked number one in program history with over 650 assists, was number one all time in free throws made, and in the top three all time in steals. Travis averaged 8.2 assists per game his senior year which was 2nd in Division III basketball nationwide. He was named Maine Rookie of the Year, was a two time All State selection and a two time All Star. After college, Travis started a very successful coaching career. He was the Boy's Varsity Basketball Coach for 4 years at Livermore Falls and 6 years at Dirigo. In 10 years of coaching Boy's Varsity Basketball he already has 150 wins. He coached Dirigo to the 2012 State Championship, has won four MVC titles, was named Class C State Coach of the Year three times, coached 15 McDonald's all Stars and two MVC Players of the Year. Travis also coached Girl's Varsity Soccer, has over 70 career wins, led his team to the Western Maine Finals and was named Conference Coach of the year. Dick Meader, Men's Varsity Basketball Coach at UMF, had this to say about Travis. "He embodied toughness and competitiveness. Coaching is enjoyable when your best player is your hardest worker and Travis was that. Not to be lost in the accolades is that he would send me a hand written thank you note at the end of each season. Now he has taken his knowledge and work ethic to become one of Maine's top high school basketball coaches. He represents what every coach and player should strive to be."
Ed was born in Stamford Connecticut and attended Stamford public schools. He graduated from Stamford High School in 1956 and received a full scholarship to play football at Xavier University in Cincinnati, Ohio, graduating in 1960. He also received a Masters degree from Fairfield University in 1968.
Ed was involved in sports all his life, beginning at an early age playing playing first base on the 1951 Little League World Series Championship Team and the 1954 Babe Ruth National Championship Team. At Stamford High School he played football, basketball and baseball. He played football for four years at Xavier University as an offensive and defensive tackle and was selected to play in the Gem City Bowl in Buffalo, NY. He was drafted by the AFL Patriots, Hamilton Tiger-Cats of Canada and the St. Louis Cardinals of the NFL. In 1960, while playing for the Stamford Golden Bears, he was acquired by the NY Giants. In the off season he was traded to the Minnesota Vikings and was one of the last players to be released. Following his release from the Vikings, he joined the Louisville Colonels for the 1961 season.
Ed coached high school football at several high schools around New England starting in 1963 until he finally settled at Rockland District High School, becoming Head Football Coach at RDHS where he enjoyed coaching the Rockland Tigers for 10 years. He turned the program around leading an undefeated 8-0 team in the 1981 regular season and lost in the Little Ten Conference Championship game. He had another outstanding season in 1982, and again lost in the Championship game. Ed was known as a great motivator and his "fiery" pre-game pep talks were legendary. His players respected him and carried his lessons with them throughout their lives. Ed was a successful RDHS Girls' Softball Coach for 18 years, making the State Tournament on a regular basis.  His Softball players loved him and he had a positive lasting effect on them.  Ed was a member of the K-L-W Umpire's Association for a number of years and was considered a premier umpire. He retired from coaching Football in 1988 and Softball in 1999. For many years Ed operated summer Football, Field Hockey and Cheering  camps.  In 2002 Ed retired from teaching.
Folks integral to his development in life included Mikey Lione, 1951 Little League Coach; Willy Kemp, Basketball Coach at Stamford High School; Jerry McDougal, Central Catholic Football Coach, who helped shape his coaching philosophy, and Bob Horan, a life-long friend and business partner in athletic camps. Ed's father and mother, Ed and Mary Mazurek, were big influences in Ed's early life. Jim Mazurek, his brother, supported him in adulthood, and perhaps, the biggest influence was his wife Maryellen, who has stood by him for 56 years, throughout the good times as well as the tough times experienced in coaching. Ed had been politically involved in Rockland serving on many boards and commissions. He was a Past President of his Parish Council.  Ed was elected to the Rockland City Council and served two terms as Mayor. In 2005, Ed was elected to the State Legislature as Representative of District. Because of term limits on Representatives, Ed ran and was elected to the Maine Senate in 2012 and served until 2014.  He was a member of the Rockland Golf Club where he played as much as time and weather permitted.
IJ Pinkham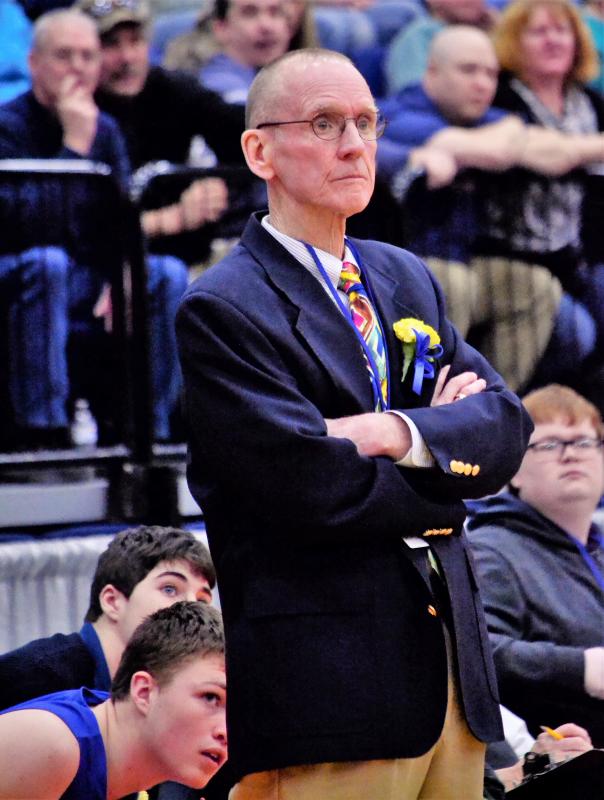 (Photo from Boothbay Register)
Irving J. (I. J.) Pinkham grew up in Milbridge, Maine and attended Milbridge High School.  He played four years of varsity basketball, cross country, and baseball.  Upon graduation, he attended the University of Maine at Farmington where he majored in mathematics education.
While at Farmington, he played four years of varsity basketball for Maine Basketball Hall of Fame coach, Len MacPhee.  He considers MacPhee his mentor and has adopted his low key coaching style.  I. J. also received a Masters Degree in Secondary School Administration from the University of Southern Maine.
After graduation, I. J. began teaching at Buckfield Junior/Senior High School.  He coached there from 1970 to 1976 and compiled a record of 52 – 54.  Buckfield suffered with him as he learned to coach high school basketball.
In 1976, he married Peggy Grover Pinkham and moved to Boothbay Harbor and began teaching mathematic and social studies and coaching varsity basketball at Boothbay Region High School.  IJ has experienced tremendous success coaching at Boothbay, amassing 563 wins, for a total of 615 in his career.  He has led the Seahawks to 12 conference championships, five Western Maine championships, and one state title.  His teams have not missed the postseason since 1992.  He has won many coach of the year awards at the conference, regional, and state level, and was inducted into the Maine Basketball Hall of Fame in 2016.
I. J. & his wife Peggy have two sons, Matthew and Timothy, and four grandchildren, River, Saylor, Henry and Graham.
He retired from teaching in 2015, but continues to coach varsity boys basketball at Boothbay Region.
(With pictured at left)
Troy Witham was one of the most accomplished young golfers ever to come out of the State of Maine in the 1980's. He was the only player to play #1 for four years at Rockland District High School. His teams won the State High School Championship four consecutive years in 1985, 86, 87 & 88. During those years Troy won the schoolboy individual championship twice.  He also won the MSGA Junior Championship twice.In 1986 Troy won both the Paul Bunyan Junior Championship held at Kebo Valley Golf Club in Bar Harbor and then the next week won the Paul Bunyan Championship  in a group of 450 golfers. During his senior year, Troy shot 13 consecutive rounds below 70 in schoolboy and MSGA competition. In 1986, he also qualified for the USGA Junior Amateur by shooting rounds of 67 &  69 at Dedham Golf & Polo Club in Dedham, Massachusetts. In the USGA Amateur Championship, held at Muerfield Golf Club in Dublin, Ohio, he advanced to the round of 8 in a field of 164 golfers, comprised of some of the top amateur golfers in the United States., such as Phil Mickleson, David Duval and Charlie Rymer.
Troy's rise to fame in the golf world did not follow the typical path. He lived somewhat of a double life, living on an island off the Maine coast from early May to December, then going to Boca Grand, Florida with his family from December to early May. Troy's dad, Robert, was a lobsterman during his months in Maine, with Troy having 150 traps of his own that he tended from a 16' skiff. While on the island in Maine, Troy would keep honed in on his golf skills by hitting balls into Penobscot Bay and practice putting on a homemade green near his home.
While in Florida, Troy attended Lemon Bay High School in Englewood, Florida where he competed on their golf team also. There, he was most valuable player from 1985 – 88, earning Coral Coast 1st Team Honors during those years, During 1987 & 88 he attained sub par stroke average for the entire season and also qualified for the Florida State Championship as an individual by posting the lowest round in the Southwest Florida Regional Qualifier. In 1988, Troy was voted the most athletic student at the school by his peers and teachers. During his younger golfing years Troy went from a 15 handicap to a scratch golfer in a matter of 2 years.
After high school Troy received a scholarship to play golf at Memphis State University, making him one of the only Maine golfers to ever receive a Division 1 scholarship to play golf. While at Memphis State Troy won the Music City Intercollegiate Tournament in 1991 and in 1992 he led the Memphis State Tigers to the first Great Midwest Conference Championship, capturing medalist honors himself.
After graduation from Memphis State Troy received a degree in Turf Grass Management from UMass – Amherst, Stockbridge School of Agriculture, serving as the Superintendent at Gorham Country Club.
According to his coaches, what made Troy so good was his mental approach to the game.  Peter Hodgkins, his coach at Rockland and teacher while growing up in Florida, said that Troy always had positive thoughts while playing.  His shot making ability was outstanding and he was probably the best putter inside 10 feet that Hodgkins had ever seen. His Florida Coach, Dick Toscia, said he is confident but not cocky.
Troy now lives in Thomaston with his wife Dawn and children, Jake, Ben and Haylie. Dawn has said that Troy could have decided to become a professional golfer but instead chose to become a professional husband and father.
Sue Wootton
(Wootton pictured at left)
Sue graduated from Camden High School in 1975, where she played on the basketball and softball teams. She was the most valuable player on the basketball team in her junior year, and became captain in her senior year. She was also a member of the ski team for two years. Her college years were spent at University of Maine at Farmington where she was on the basketball and volleyball teams for four years. In 1978 she was elected as the captain of the basketball team that went on to be state champions. In her senior year she served as the team captain. At Farmington she excelled in volleyball and had the honor of being selected on All New England and All State teams. Her talent led to the honor as captain of her volleyball team while at Farmington. Her coaching career began at Mt Blue where she coached the 6th and 8th grade basketball teams. Following this tenure, she came home and was the Camden Girls' Varsity Coach in 1992. She was successful in turning a losing program into one to be proud of. The Windjammers Girls qualified for Eastern Maine Tournament for three years. She also worked with the youth basketball program in her home town of Camden. She has been a member of the Rockland Women's Golf Association and the Women's Maine State Golf Association. She has been instrumental planning junior tournaments for the junior golfers of The Women's Maine State Golf Association. Under her tutelage the number of juniors playing in the WMSGA tournaments has increased. Susan "Sue" Wooton has excelled as a player and contributor for women's and youth sports in the Knox County area. She adds, "I was lucky to go to Camden –Rockport High School and have had so many great coaches. There was no organized sports for me when I was in middle school. I had two wonderful coaches in college too. They were like my moms. I truly believe I was born to work with kids. I love my time with them." Her accomplishments have been impressive, and we are honoring her as one of our inductees in the Midcoast Sports Hall of Fame class of 2017.